Distribution of the species of Arctocebus.
Arctocebus calabarensis
Arctocebus aureus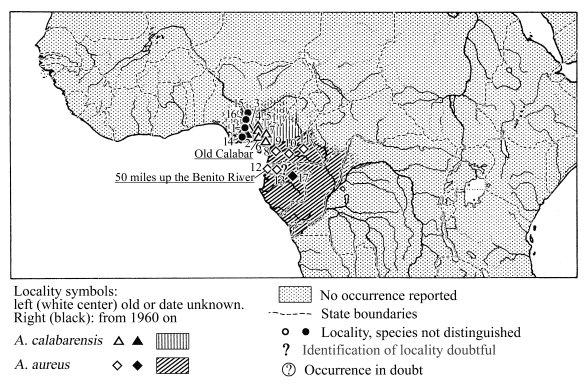 Type localities underlined
Based on Bartholomew 1979; Diercke Weltatlas 1957, Christopher 1984 and Gwangogwe et al. 1985 (geographic and historical information); maps by Sanderson 1940, Fiedler 1956 and Rowe 1996 and data from authors mentioned in the list below.
Arctocebus species: list of origin of described animals / specimens
General distribution
Tropical rain forests of West Africa, from south and east of the Niger and Benue River to the Zaïre River (Jenkins 1987, quoting Jewell, and Oates 1969 and Hill and Meesters 1977). As in Perodicticus, the border of forest zone is the northern limit of the distribution area. The Sanaga River, one of the major faunal barriers within the rainforest belt, probably divides the distribution areas of both species (Schwarz, 1931).
A. calabarensis:
Distribution: .Southern Nigeria, Cameroon, including Cameroon mountains. South and east of the Benue and Niger rivers in southern Nigeria, in Cameroon eastwards to the Sanaga River. Northwards to the border of forest zone (Osman Hill 1953; Jenkins 1987).

No.
Origin
Altitude
Date
(Source)
Type locality: Old Calabar (Nigeria)
(Jenkins 1987)
Nigeria:
1
Owerri, 050 30I N 070 01I E
1949
(Jenkins 1987)
2
Aba, near Calabar,
040 57I N 080 19I E
1956, 1979
(Jenkins 1987)
3
Umuahia, 050 32I N 070 29I E
120 m
1945
(Jenkins 1987)
4
N´ko, Obubra (division),
060 01I N 080 08I E
240 m
Prior to 1940
(Jenkins 1987)
5
M´kpani (= N´kpani), Obubra division, 050 49I N 080 09I E
240 m
1933
(Jenkins 1987)
6
Old Calabar, 040 57I N 080 19I E
1859,
prior to1866
(Jenkins 1987)
Cameroon:
7
Mamfe, Mamfe Division,
050 46I N 090 17I E
120 m
1932, 1933
(Jenkins 1987)
8
4 miles from Kumba,
040 38I N 090 25I E
Prior to 1948
(Jenkins 1987)
Not found on map:
7b?
Okoiyong, Mamfe Division,
050 45I N 080 25I E (Coordinates correct? In Nigeria)
125 m
1933
(Jenkins 1987)
Basho, Cameroons
Prior to 1931
(Schwarz, 1931)
Yossplatte, S.W. Cameroons
Prior to 1931
(Schwarz, 1931)
Eshobi
Prior to 1940
(Sanderson 1940)
No information about species, but within A. calabarensis distribution area:

No.
Origin
Altitude
Date
(Source)
Type locality: 50 miles up the Benito River, Equatorial Guinea / Rio Muni (see below: 12)
Cameroon:
7
Mamfe, Mamfe Division, 050 46I N 090 17I E (deep high deciduous forest region)
122 m
1933
(Jenkins 1987; Sanderson 1940)
Nigeria:
1 b
Mamu, south-eastern Nigeria (two animals found)
1963-1967
(Jewell, Oates 1969 a)
14
Elele, south-eastern Nigeria (two animals)
1963-1967
(Jewell, Oates 1969 a)
15
Akpaka (Akpacha), south-eastern Nigeria (one animal)
1963-1967
(Jewell, Oates 1969 a)
16
Nsukka, south-eastern Nigeria. Several animals were brought to the zoo of Nsukka; questioning of captors revealed that most of them came from very close to Nsukka University
1963-1967
(Jewell, Oates 1969 a)
A. aureus:
Distribution: . Cameroon and Spanish Guinea / Equatorial Guinea, Gabon and Congo. Probably range limited by the Sanaga River on the north and west and the Ubangi / Oubangui and Congo / Zaïre rivers on the east and south; vide Schwarz 1931 (Osman Hill 1953; Jenkins 1987)

No.
Origin
Altitude
Date
(Source)
Type locality: 50 miles up the Benito River, Equatorial Guinea / Rio Muni (see below: 12)
Gabon:
17
Ogoué-Ivindo region of Gabon, West Africa, included in the Congolese rain forest block; study area of Charles-Dominique (main study site on Ipassa plateau near Makakou)
Prior to 1977
(Charles-Dominique 1977)
Cameroon:
9
Metet, near the Nyong River,
030 N 110 E
< 610 m
1913
(Jenkins 1987)
10
Nko, Sangmelima, Distr. Elolowa, Cameroons
Prior to 1931
(Schwarz, 1931)
11
Obala (= Arteck, Ateick Village, Oballa = the Chief), Batouri District,
030 54I N 130 46I E
1932
(Jenkins 1987)
Equatorial Guinea / Rio Muni:
12
50 miles up the Benito River,
010 36I N 090 37I
150-300 m
1913
(Osman Hill 1935; Jenkins 1987)
13
Nkolentangan, south bank of Bim River, headwaters of San Benito River, Spanish Guinea
Prior to 1931
(Schwarz, 1931)
Not found on map:
13?
Alen, north bank of Bim River, Spanish Guinea
Prior to 1931
(Schwarz, 1931)


http://www.species.net/primates/loris
Lorises and pottos: species, subspecies, local populations

Last amendment: 13 April 2002