A review of colour and markings in Nycticebus species and subspecies

This figure may help to identify confiscated animals for later reintroduction to the wild as far as presently possible.
To the identification key index. (Identification key for slow lorises: in preparation)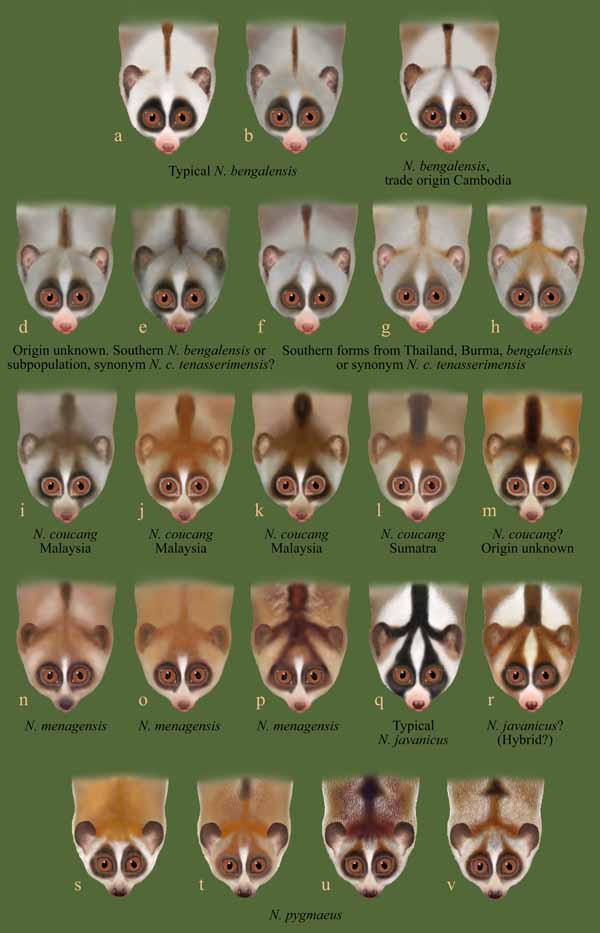 Click here for a larger figure
Illustation by H. Schulze, based on photos by Colin Groves, Ulrike Streicher, Helena Fitch-Snyder, Frank Wiens, Anna Nekaris, WildAid / MoE Cambodia, Scott Heinrichs, Elke Schwierz, Volker Kess, Richard Tenaza, Maren Gaulke / Colin Treadaway, Paolo Martelli and photos seen in several websites. Thanks also to Dr. Siti Nuramaliati Prijono, Zoological Division of the LIPI, Indonesia, and to the coworkers of the Zoology Museum Bogor, for the permission to study the slow loris skins in the museum collection.
Figure above published in: Schulze, H.; Groves, C., 2004: Asian Lorises: taxonomic problems caused by illegal trade. Pp. 33-36 in: Nadler, T.; Streicher, U.; Ha Thang Long (eds:): Conservation of Primates in Vietnam (Proceedings of the International Symposiumat Cuc Phuong National Park, 18. - 20. November 2003). Haki Publishing, Hanoi.
Taxonomic names based on Roos 2003, Roos, pers. comm, Nekaris, Bearder 2006, Nekaris, Jaffe 2007 and Nekaris, pers. comm
Some literature:
Taxonomy primarily based on Colin Groves´ publications
New developments: see for instance:
Roos, Ch., 2003: Molekulare Phylogenie der Halbaffen, Schlankaffen und Gibbons. Dissertation, Lehrstuhl fuer Genetik, Fakultaet Wissenschaftszentrum Weihenstephan fuer Ernaehrung, Landnutzung und Umwelt der Technischen Universitaet Muenchen. (Thesis, German) http://tumb1.biblio.tu-muenchen.de/publ/diss(2003/roos.pdf
Nekaris, K. A. I.; Bearder, S. K., 2006: The lorisiform primates of Asia and mainland Africa: diversity shrouded in darkness. Pp. 24-72 in: Primates in perspective. Ch. J. Campbell; A. Fuentes; K. C. McKinnon; M. Panger and S. K. Bearder (eds.), Oxford University Press. Paperback: ISBN13: 9780195171334, ISBN10: 0195171330, hardcover: ISBN13: 9780195171341, ISBN10: 0195171349
Nekaris, K. A. I.; Jaffe, S., 2007: Unexpected diversity within the Javan slow loris trade: implications for slow loris taxonomy. Contributions to Zoology 76 (3): 187-196
Nekaris, K. A. I.; Munds, R., 2009 in press, previously published in February 2010:: Unmasking diversity: the slow lorises (primates: Lorisidae: Nycticebus spp.) of Indonesia. In: Developments in primatology: progress and prospects – Indonesian primates. S. Gursky-Doyen and J. Supriatna (eds.). Springer New York.



Loris and potto identification key
in http://www.loris-conservation.org/database/

Last amendment: 5. November 2009